PREBIOTICS - PROBIOTICS FROM PLANTS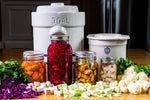 OUR STORY
Launched by two women in Austin, the Cultured Carrot has revolutionized ancient fermentation. While we were amazed at the exploding amount of information about the microbiome, gut health and the amazing benefits of fermented foods we knew there had to be a better way to get them onto our plate and into our families tummies.
🧡
Palak & Kristin, Founders
Locally crafted in Austin, Texas
Making handcrafted, fermented dressings to bring nutrient and probiotic rich food in a naturally delicious way to your table.
Cultured Carrot fans are saying
"The Cultured Carrot isn't a healthy alternative, it is now a staple in our kitchen."

Hollie Kenney, Former professional triathlete.

"These dressings make it easy and enjoyable to consume fermented foods. The best part is that my family loves them as well, so I can FINALLY get some fermented foods in them!"

Beth Jameson, Holistic Dietitian

"As a health-enthusiast and busy mother of three, I'm always looking for creative ways to nourish my family with what their bodies need. The Cultured Carrot's salad dressings, made from organic vegetables and gut-loving probiotics, do just that. No preservatives. Nothing artificial."

Melissa

"I'm in love with Cultured Carrot products. It's incredible that dressings made 100% from fermented veggies can taste this good!! It's Brilliant. Best part is that my picky kids will eat them too. Yes, they taste that great!

Paula

"We aren't normally a dressing family but ever since discovering the cultured carrot probiotic dressings we are obsessed!! We use them on not just salads but grains and use them as dips. Our bellies have never been more happy."

Jacqueline, Mama of 3!

"My family's favorite is the Caulipower Ranch. I love knowing I can enjoy salad dressings that are nothing but goodness for my body."

Naomi

"As a pediatric nurse practitioner who practices functional medicine, I'm always trying to find ways to get more pre and probiotic foods into my patients' diets. Cultured Carrot has developed unique dressings that have probiotics aimed to nourish and feed our healthy gut bacteria. I love the flavors, colors, and the ability to use them on salads, in bowls, or as a dip on the side! My kids enjoy dipping their carrots, cucumbers, and chicken in the "ranch" dressing. I cannot wait until these products are available for my patients!"

Jana- integrative pediatric nurse practitioner

"I loved them all but the Rooting For You is addicting! I love using it on stir fry and all my salads. My kids love the Caulipower Ranch!! I appreciate the fact that I'm boosting their gut health while most ranch dressings do the opposite."

Michelle - Executive assistant Nuvitru functional nutrition

"I love everthing about the Cultured Carrot product line! Certainly the probiotics and gut health is a BIG incentive"

Kendall, Group Fitness Instructor.

"Cultured Carrot Dressings are not only full of healthy gut loving probiotics, fully organic and no preservatives, it is ALSO SUPER DELICIOUS! I use it as a dressing, as a dip with my carrots and also sometimes eat a spoonful when I am on the run and need some daily dose of gut loving probiotic!"

Anshu

"I have been touched to know that these have been created by moms with the same intent as myself of giving the most nourishing food to our families. I highly recommend these dressings!."

Hetal - Certified Sr. Yoga teacher and ayurveda practiontioner

"I now WANT salad with every meal because I am getting more than salad health, I am getting gut health"

Trish

"These make a boring salad totally fun and delicious! What makes it even more amazing is that I know I am filling my body with good fermented yumminess"

Laurie

"I love the new fermented dressings from the Cultured Carrot! I'm currently obsessed with the beet and turmeric ones - adding them to salads, veggies, and meat dishes. They never feel heavy, and I feel good knowing that they're contributing to my overall gut health."

Deborah

"We are in love with the Cultured Carrot's fermented dressings! You can't beat something that's healthy, makes you feel good AND it taste amazing!!

Ashley
Supporting Farmers
Ingredients sourced locally
Female-founded
Created by two moms on GUT instinct
Eco friendly packing
Made from recyclable glass bottles
Supporting Farmers

Ingredients sourced locally

Female-founded

Created by two moms on GUT instinct

Eco friendly packing

Made from recyclable glass bottles